If you have a young child or teenager, it's important to make sure that they have the right setup in the bedroom. Remember, this isn't just about ensuring that they have a space for a good night of sleep. This is also going to be a personal space where they can relax, enjoy various hobbies or complete their school work. That's why you need to make sure that you provide the best desk. The Eureka Ergonomic Pink Gaming Desk GIP 47'' could be a brilliant choice for a variety of reasons. Let's explore why this desk might be the right feature for your child's room
Looks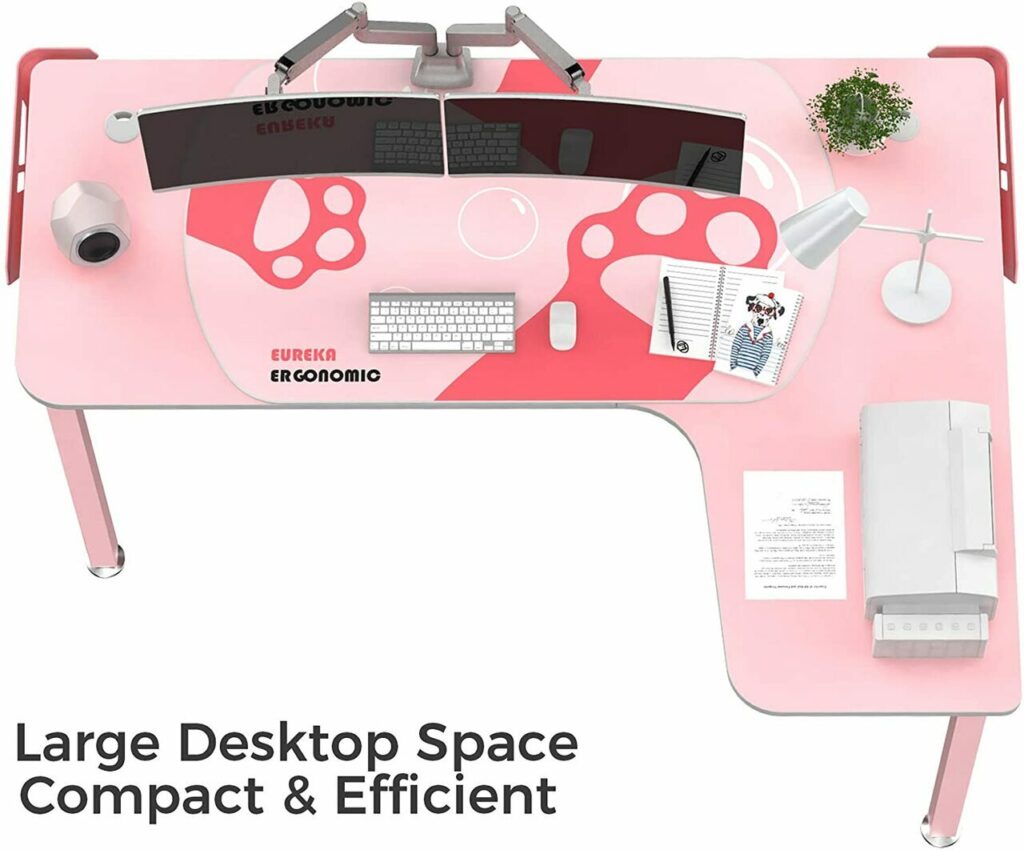 First, let's explore the aesthetic of this gaming desk. The desk is a beautiful pastel pink and this will make it the perfect addition for any girl's room. It could also be considered a unisex choice, depending largely on the individual preferences of a child. The desk is designed to look sleek and has a minimal appearance. You won't have to worry about this desk looking cluttered or too busy. It is also complemented by a beautiful mousepad which we will discuss in more detail a little further down
Adjustable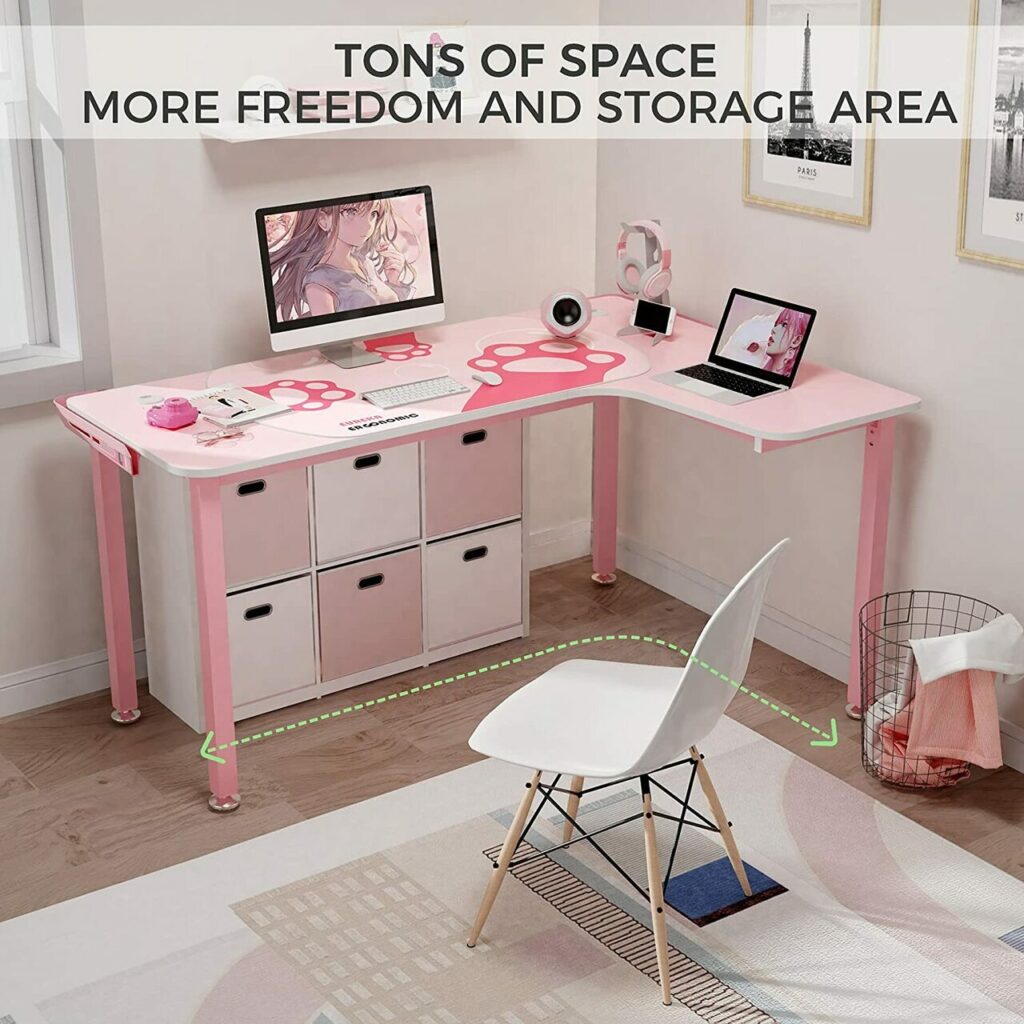 It's important to ensure that you can match any desk in a child's room based on the floor surface. For instance, a child's bedroom could be laminate flooring or carpet. Most gaming desks that are available on the market are not adjustable to match the flooring choice. However, this is not the case with Eureka's gaming desk. The feet are highly adjustable and made to an exceptional standard of quality. You won't need to worry that a desk is going to ruin the floor or leave marks. It will also remain sturdy and firmly in place during extended use, protecting everything on top of it.
Size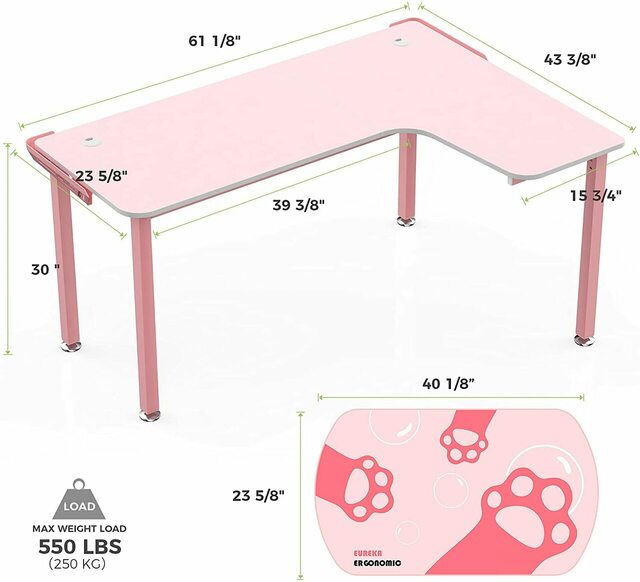 It's important to ensure that a desk provides enough space for your child to work with. This 60'' desk certainly fits the bill here. There's enough room here for multiple tech devices including laptops, desktops and tablets. It can also be used for a wide range of accessories and gaming consoles. The L-shaped design also ensures that the desk will fit snugly into any corner space, saving room while providing plenty of area to work with. The L-shaped design is also great for switching between different screens and viewing various information in quick succession.
As well as providing a large surface area to work with, the desk also has ample leg space. This is a crucial consideration if you are looking for a desk that is providing ergonomic benefits. If a desk is too cramped, then it is going to restrict leg movement. Luckily, this is not the case with this desk. You or your child will be able to stretch out freely. It also has plenty of height which means you won't have an issue with your knees hitting the top of the desk.
Added Extras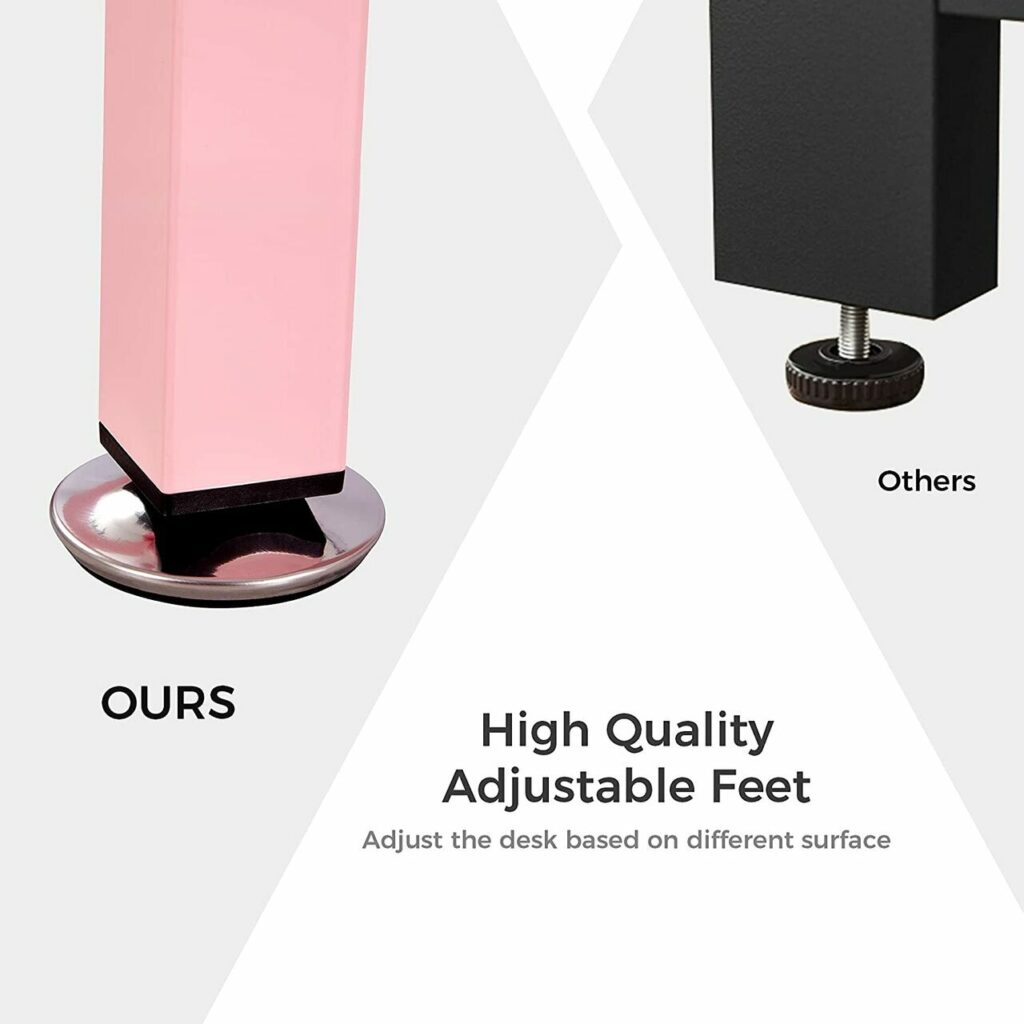 The desk does provide various extras that you might find appealing. For instance, it comes with a fun mouse pad. While this is not a full service pad, it does match the aesthetic of the desk and has a fun design with paw prints. Asuch, it's perfect for animal lovers who are looking at setting up a great gaming environment.
Other extras include a cable management system. This makes it easier to keep cables neat and tidy. That's always going to be important for a gaming setup where there will be multiple devices being used at the same time.
Highly Durable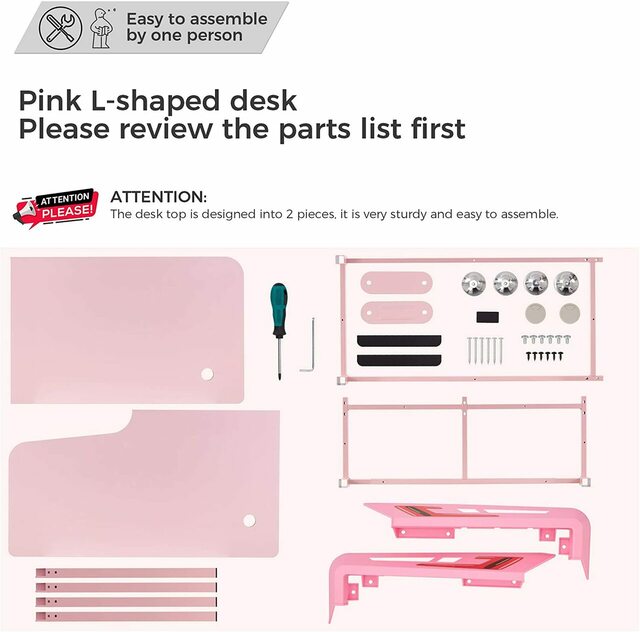 The pink L shaped gaming desk from Eureka is also designed to be highly durable. If you are buying this desk for a child, it's something that they will be able to continue to use later in life, through their teenage years and perhaps on into adulthood. One of the reasons for this is that the desk is made of commercial grade materials that are designed to be both stable as well as reliable. These desks are tested to ensure that they do meet the highest standards in terms of safety and durability.
The desk is also designed with additional support to ensure that it is protected from bumps and knocks. These extra levels of cushioning can be found on the back corners of the desk which will likely be up against the wall.
Easy Assembly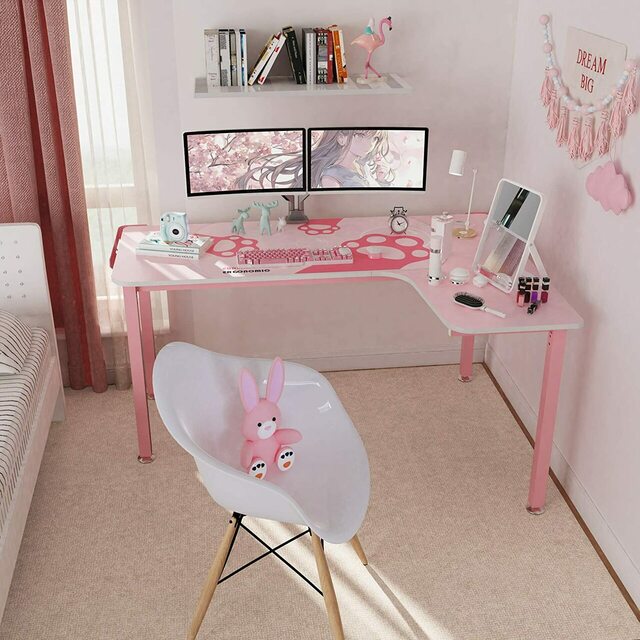 Another key benefit of this particular desk is that it is easy to assemble. You won't have to spend hours putting this particular desk together. Eureka provides easy to follow instructions that will make assembly a breeze. It might be a little more tricky to disassemble the desk. However, it still shouldn't take more than an hour if you do need to move it to a new location.
Who Is This Desk For?
There's no doubt that this is going to be a fun desk for a child's room or a place where they can study. It has a great design and will likely be particularly appealing to young girls. However, it could also be suitable for an adult with a whimsical or creative mindset. The light pink shade isn't too intrusive or eye-catching and as such could fit with a range of different decor choices. Animal lovers will also likely get a kick out of the mouse pad which has a playful design that will be perfect for cat and dog enthusiasts alike.
Summary
Ultimately, the Eureka Ergonomic Pink L Shaped Gaming Desk L152 60'' provides a lot of benefits that will make it the perfect solution for a wide range of possibilities. The size ensures that it is large enough to be the base point for a variety of different types of tech. This could include a tablet display as well as a fall desktop or even dual displays. The L-shaped also means that it will easily fit snugly into any room without taking up too much space. Finally, it will provide a comfortable workstation, with enough legroom for adults and older children alike. This is the type of desk that could continue to provide significant benefits for years. Find it here: https://eurekaergonomic.com/gaming-desk-l60-60-pink-l-shaped-left/