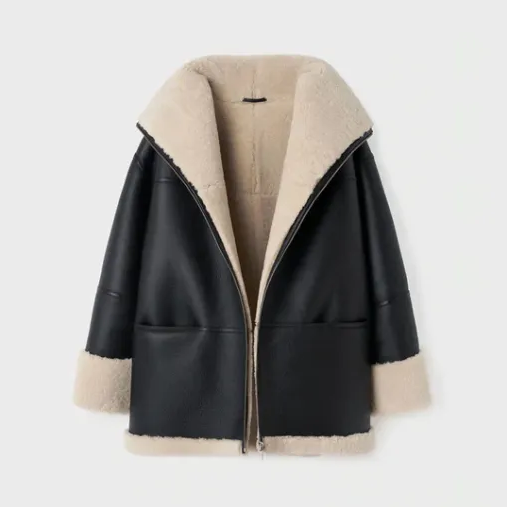 When it comes to fashion, one of the most versatile and iconic clothing items you can have in your wardrobe is an oversized leather jacket. These stylish pieces are not just a fashion statement; they are a symbol of confidence and individuality. In this article, we will delve into the world of oversized leather jackets, understanding their appeal, and exploring the benefits of incorporating them into your style.
Understanding the Appeal of Oversized Leather Jackets
Oversized leather jackets are a timeless fashion icon, closely associated with coolness and rebellion since their popularization by iconic figures like James Dean and Marlon Brando in the 1950s. Their enduring appeal lies in their timeless design, which transcends generations. What makes them even more appealing is their remarkable versatility in style, as they can effortlessly elevate both casual and formal outfits. These jackets do more than enhance your appearance; they boost confidence and exude a bold, self-assured attitude. Additionally, they provide comfort and warmth during colder months, with the supple leather molding to your body for an irresistibly snug fit that you'll never want to part with.
Benefits of Wearing Oversized Leather Jackets
Wearing an oversized leather jacket is more than just a fashion choice; it's a powerful style statement that showcases your confidence and individuality. These jackets are not only easy to layer, adapting to various seasons, but they also provide protection and durability, making them a long-lasting wardrobe staple. Every closet should have at least one oversized leather jacket, as it's a timeless and versatile piece that stands the test of time, easily transitioning from casual to formal occasions.
Selecting the Perfect Oversized Leather Jacket
Choosing the ideal oversized leather jacket is a decision that can significantly impact your style and overall fashion statement.
Finding Your Style: Biker vs. Bomber vs. Classic
Leather jackets come in various styles, each with its unique characteristics. Understanding these styles will help you determine which one resonates with your personal style.
1. Biker Jacket
The biker jacket is an iconic style known for its asymmetrical zip closure and wide lapels. It's a symbol of rebellion and is often adorned with studs and patches. If you want to channel your inner James Dean or Marlon Brando, the biker jacket is the way to go.
2. Bomber Jacket
The bomber jacket has a more relaxed and casual vibe. It typically features a zip-up front and ribbed cuffs and waistband. Bomber jackets are versatile and work well with both casual and semi-formal outfits.
3. Classic Jacket
The classic leather jacket is a timeless piece that never goes out of style. It usually features a straight zip closure and minimal detailing. This style is perfect for those who prefer a more understated, yet sophisticated look.
When choosing your oversized leather jacket, consider which style resonates with your personality and the image you want to project.
Sizing Matters: Choosing the Right Fit
Selecting the right size for your oversized leather jacket is crucial for both comfort and style. Here are some tips to help you find the perfect fit:
When selecting your oversized leather jacket, it's crucial to consider your body shape for a flattering fit. For instance, if you have a slim physique, opt for styles like a classic jacket that complements most body types. Additionally, ensure there's enough room for layering in colder months by choosing the right size. Check that the sleeve length is appropriate, allowing flexibility in hand movements, and make sure the shoulders align with your natural shoulder line to avoid an ill-fitted look. These considerations are key to achieving a comfortable and stylish fit for your leather jacket.
Complementing Your Oversized Leather Jacket
Once you've selected the perfect oversized leather jacket that suits your style and personality, the next step is to complete your outfit with complementary pieces.
Matching with the Right Bottoms
Pairing your oversized leather jacket with the right bottoms is essential to achieve a well-balanced and fashionable ensemble. Here are some bottom options that work seamlessly with your jacket:
1. Jeans
Jeans are a timeless choice that complements leather jackets beautifully. Whether you prefer skinny, straight-leg, or bootcut jeans, they all work well to create a classic and edgy look.
2. Leather Pants
For an extra dose of leather-inspired style, consider leather pants. They provide a sleek and cohesive appearance that's perfect for those who love the leather-on-leather look.
3. Skirts
Ladies can opt for skirts, whether it's a mini, midi, or maxi skirt, to add a touch of femininity to the ruggedness of the leather jacket. Pair with boots for an edgy twist.
4. Trousers
If you want a more polished and sophisticated look, tailored trousers can work excellently with an oversized leather jacket. This combination offers a stylish contrast.
Layering Like a Pro: Shirts, Sweaters, and Hoodies
Layering is a key element of styling your oversized leather jacket, adding both warmth and depth to your outfit. Here's how to layer effectively:
1. Shirts
T-shirts, button-downs, and turtlenecks are fantastic options for layering under your leather jacket. They provide different looks, from casual to semi-formal, and can be adapted to various occasions.
2. Sweaters
Sweaters are ideal for colder weather. Opt for crewneck or V-neck sweaters in various colors to create a contrast with your jacket. A well-chosen sweater can add a touch of sophistication to your ensemble.
3. Hoodies
For a laid-back and urban look, pair your leather jacket with a hoodie. The hoodie's casual vibe complements the edginess of the leather, and it's perfect for street style.
Footwear Fusion: Shoes That Work Best
Choosing the right footwear is the final touch to complete your oversized leather jacket outfit. Here are some shoe options that work seamlessly:
1. Boots
Boots and leather jackets are a match made in fashion heaven. Classic choices include ankle boots, combat boots, or even knee-high boots, depending on the rest of your outfit.
2. Sneakers
For a more relaxed and casual appearance, sneakers are an excellent choice. White sneakers offer a clean and minimalistic look, while high-tops can add an urban flair.
3. Oxfords or Loafers
If you're going for a semi-formal or even formal look, consider pairing your oversized leather jacket with oxfords or loafers. These shoes add an elegant touch to your outfit.
4. Sandals
For a unique and bold approach, consider pairing your leather jacket with sandals. This unconventional choice can work in warmer weather and adds a distinctive edge to your style.
Accessorizing Your Look
To elevate your style and make your oversized leather jacket outfit truly stand out, accessorizing is key. In this section, we will explore the art of accessorizing with scarves, hats, and gloves, using belts and buckles to cinch the waist, and selecting bags and backpacks that are both functional and stylish.
Scarves, Hats, and Gloves: The Perfect Add-Ons
Adding scarves, hats, and gloves to your outfit can enhance the overall look and keep you warm during colder seasons. Here's how to make these accessories work with your oversized leather jacket:
1. Scarves
Scarves come in various materials and styles, from cozy knit scarves to lightweight silk options. A chunky knit scarf can add a touch of warmth and texture to your look, while a silk scarf can provide a more elegant and polished appearance. Drape it loosely around your neck or knot it for a more tailored look.
2. Hats
Hats are not only a practical choice to shield your head from the elements but also a stylish addition to your outfit. Consider options like a classic fedora, a beanie for a more casual look, or wide-brimmed leather cowboy hats for a touch of drama.
3. Gloves
Leather gloves can be a perfect match for your leather jacket. They not only keep your hands warm but also create a coordinated and stylish appearance. For a touch of sophistication, opt for gloves in a complementary color.
Belts and Buckles: Cinching the Waist
Cinching the waist with a belt is a fantastic way to add definition and style to your oversized leather jacket ensemble. Here's how to make it work:
1. Wide Belts
Wide belts can create a more structured and cinched-in look. They work particularly well if you want to define your waist while adding a touch of glamour to your outfit.
2. Skinny Belts
Skinny belts are a subtler option that adds a touch of detail without dramatically altering your silhouette. They're perfect for a more relaxed and casual look.
3. Statement Buckles
Consider belts with statement buckles that draw attention and become a focal point of your outfit. This can add a unique and eye-catching element to your overall style.
Styling Tips for Different Occasions
Your oversized leather jacket is a versatile piece that can be adapted to various occasions, from casual outings to formal events.
Casual Cool: Dressing Down Your Jacket
For a relaxed and laid-back vibe, here are some tips on dressing down your oversized leather jacket:
1. T-Shirts and Jeans
Pair your jacket with a classic t-shirt and your favorite pair of jeans. This timeless combination exudes a cool and effortless style that's perfect for a day of errands or meeting friends.
2. Sneakers or Ankle Boots
Complete the look with comfortable sneakers or ankle boots. These footwear choices add to the casual and relaxed feel of the outfit while providing comfort for long walks or a day on the town.
3. Accessorize with a Baseball Cap
To enhance the casual cool look, consider adding a stylish baseball cap to your outfit. It adds a sporty and relaxed touch to your overall appearance.
Office Sophistication: Incorporating into Workwear
If you want to incorporate your oversized leather jacket into your workwear, here's how to maintain an office-appropriate yet stylish look:
1. Tailored Trousers
Pair your jacket with tailored trousers. The contrast between the structured pants and the relaxed jacket creates a sophisticated balance.
2. Blouses or Shirts
Opt for blouses or shirts to create a polished and professional appearance. Tuck them into your trousers for a clean and tailored look.
3. Loafers or Heels
Complete your office ensemble with classic loafers or heels, depending on your personal style. These footwear options add an elegant touch to your look.
Night Out: Elevating Your Evening Look
For a night out on the town, you can elevate your oversized leather jacket look to achieve a stylish and eye-catching evening outfit:
1. Little Black Dress
Pair your jacket with a little black dress. The combination of the classic LBD and the edginess of the leather jacket creates a chic and fashionable evening look.
2. High Heels
Opt for high heels to add a touch of glamour and sophistication. Whether it's stilettos or ankle boots with heels, they can elongate your legs and enhance your overall appearance.
3. Statement Accessories
Incorporate statement accessories, such as bold jewelry or a clutch bag, to make your evening look stand out. These accents can add a touch of elegance and individuality to your outfit.
Confidence and Attitude
Your oversized leather jacket is more than just a piece of clothing; it's a symbol of confidence and attitude.
Walking with Swagger: Confidence Boosters
Wearing an oversized leather jacket naturally elevates your confidence. Here are some confidence-boosting tips to make the most of your leather jacket:
1. Stand Tall
Good posture exudes confidence. When you wear your leather jacket, stand tall with your shoulders back. This simple adjustment can make you feel and look more self-assured.
2. Express Individuality
Your leather jacket is a statement piece. Use it to express your individuality and unique style. When you wear something that truly represents you, it automatically boosts your confidence.
3. Pay Attention to Details
A well-groomed appearance can make you feel more confident. Ensure that your outfit is clean and well put together. Attention to detail matters, from the shine of your shoes to the fit of your jacket.
Mindset Matters: The Attitude of a Leather Jacket Wearer
Embracing the right mindset is essential to truly embody the attitude of a leather jacket wearer:
1. Embrace Fearlessness
Leather jackets are often associated with rebellion and fearlessness. Channel your inner rebel and approach life with a fearless attitude. Conquer your challenges with courage and determination.
2. Be Unapologetically Yourself
Your leather jacket is a symbol of authenticity. Be unapologetically yourself, and don't be afraid to stand out from the crowd. Confidence comes from being true to who you are.
3. Face Challenges Head-On
A leather jacket wearer is not one to shy away from challenges. Embrace life's obstacles with a can-do attitude and the belief that you can overcome anything that comes your way.
Where to Buy Oversized Leather Jacket?
When searching for leather jackets, start by exploring online options like Amazon, eBay, and Sherpa Leather for a wide variety. Consider your preferred style, whether it's a classic black leather jacket or something unique, to help you refine your choices. After selecting potential jackets, ensure they fit well, provide comfort, and pay close attention to the leather's quality. Opt for a high-quality, durable jacket that will stand the test of time, whether you shop online or visit local stores.
Summary
In this guide, we explored the versatile world of oversized leather jackets. We began by understanding their timeless appeal and discussed how to choose the perfect one. We then learned how to complement these jackets with accessories, adapt them to different seasons and occasions, and boost our confidence when wearing them. Ultimately, your leather jacket is more than just clothing; it's a symbol of personal style and attitude. Wear it with pride, embrace authenticity, and conquer any challenge with the fearless spirit it represents.