Hillock Green – Redefining Urban Excellence in Lentor Central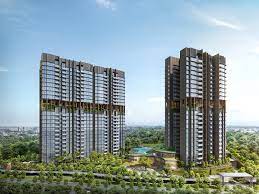 Introduction: Hillock Green – Redefining Urban Excellence in Lentor Central Nestled in the dynamic real estate landscape of Singapore, Hillock Green stands out as a shining example of urban development excellence. In the rapidly evolving Lentor Central, this 99-year leasehold project has quickly seized the spotlight with its promising sales, signifying a major leap in the region's development. Hillock Green epitomizes the progressive nature of Singapore's property sector, seamlessly merging contemporary living with the advantages of a strategic location.
Impressive Sales in a Competitive Market Hillock Green, a collaborative effort of China Communications Construction Company (CCCC), Soilbuild Holdings, and United Engineers, marks a notable success in the competitive property market. At its launch, Hillock Green sold 131 of its 474 units, translating to a remarkable 27.6% occupancy at an average of $2,108 per square foot, the development signifies a robust demand for premium living spaces. This brisk sales pace reflects growing confidence in Lentor Central as an ideal residential enclave.
Strategic Location Meets Lifestyle Aspirations Hillock Green's allure extends beyond its luxury units to its prime position in District 26. This idyllic setting offers a perfect fusion of nature's tranquility and urban convenience. Proximity to the Lentor MRT station links residents to vital city areas like the CBD, Marina Bay, and Orchard Road. The surrounding lush landscapes provide a peaceful haven, making it a preferred choice for those seeking the vibrancy of city life coupled with the calm of natural retreats.
Diverse Buyer Interest: A Reflection of Universal Appeal Hillock Green caters to a varied buyer demographic, from upgraders seeking enhanced living experiences to first-time homeowners and astute investors. This diverse interest underscores Hillock Green's widespread appeal, bolstered by its strategic location and comprehensive amenities.
Pricing Strategy: A Competitive Edge The development's competitive pricing, starting from $1,800 psf, sets it apart from nearby projects like Lentor Modern and Lentor Hills Residences. This appealing price range and top-tier offerings position Hillock Green as a coveted investment in an emerging area.
Market Context and Future Prospects Hillock Green's launch mirrors broader trends in Singapore's property market. Despite recent slowdowns in home sales, the project's success indicates a resurgence of interest in strategically located luxury residences. This trend is poised to influence Singapore's property landscape in the future.
Conclusion: A Personal Invitation to Experience Hillock Green Hillock Green is more than a residence; it's a strategic investment in a flourishing community. Its success heralds the untapped potential of Lentor's Hill Estate. We warmly invite you to visit our Hillock Green showflat to experience the unique lifestyle that Hillock Green offers. Join us in this exciting journey at Lentor's Hill Estate, a community with potential and growth opportunities.