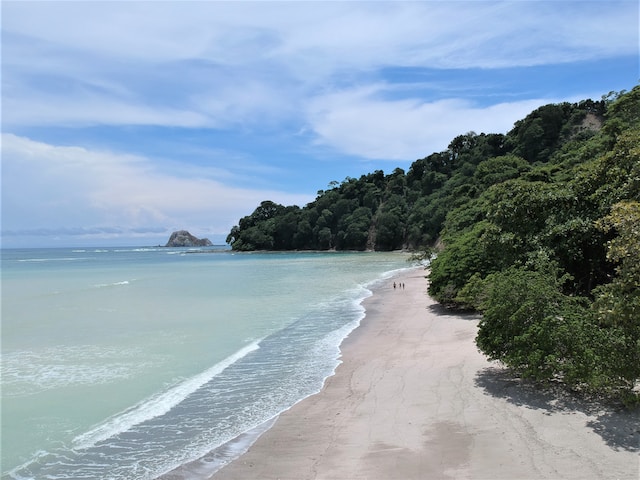 The best beaches in Central America may be found in Costa Rica, which is perhaps best known for its lush jungles, wellness resorts, and sustainable vacation destinations. Take your pick: Costa Rican beaches have it all. From undiscovered, laid-back beach communities on the Caribbean coast to developed resorts and world-class surf destinations on the Pacific coast.Come discover the natural beauty of Costa Rica with an abundance of beaches, wildlife, and tropical paradises to experience.
This comprehensive list of Costa Rica's top beaches includes everything from tinier, more remote pockets of white sand to expansive beaches that are ideal for catching waves and sunrays. Use this information as you plan your vacation to Costa Rica to identify the beaches that are ideal for those wonderful beach days and to round out your itinerary.
Playa Conchal
Playa Conchal is without a doubt one of the most stunning beaches in the province of Guanacaste and is regarded as one of the best beaches in Costa Rica, but don't go expecting to find powder-soft white sand! This unusual beach is almost entirely made of small seashells, making a trip here special. If you intend to lounge around all day, just don't forget to pack a towel!
There are several facilities along this beach, including food and drink sellers, beach shacks, and places to rent snorkelling gear and even jet skis. Whereas the Westin Reserva Conchal or W Costa Rica Reserva Conchal, both fantastic choices, have the easiest access to the beach.
Playa Danta
Playa Danta is a fantastic Costa Rica beach location that is still off the beaten road. It is situated in the little, laid-back beach town of Las Catalinas. Even with kids, it's a great place to go swimming due to the relatively calm surf.
Beach Danta never seems to get too crowded despite being in the heart of expanding Las Catalinas, making it the ideal location to unwind. It is simply reachable from the parking lot by a short stroll. There are some coastal eateries, however there are no public facilities or changing areas on the beach.
Playa Dantita is just a short walk away on a clearly indicated trail from Playa Danta, so come there to round out your tour. You probably won't find many beachgoers here because it's much more isolated.
Playa Tamarindo
Tamarindo, a little fishing community on Costa Rica's Pacific coast, was not so long ago. Tamarindo, one of Costa Rica's most popular beach towns, has experienced a large increase in tourists flocking to its stunning shoreline, which are home to some of the most picturesque beaches in the country on either coast.
Although Tamarindo is still a small town, it has a lot of attractions, though the beach is the major appeal. While the beach is famed for surfing, and there are many surf schools offering training even to novices, the waves can be a bit much for some swimmers, Langosta Beach is a neighbouring alternative that is equally popular with children and has fewer waves.
Playa Manuel Antonio
The most stunning beach in Costa Rica is Playa Manuel Antonio, which is part of the well-known Parque Nacional Manuel Antonio (Manuel Antonio National Park). It is a wonderful day trip destination because of the length of its white sand beach and the normally calm waves.
While it is possible to visit the Beach Manuel Antonio on your own, we found that taking a guided excursion was much easier, especially if you don't want to rent a car. Many tourists make the most of a visit to the Playa Manuel Antonio as part of a day trip that includes a guided tour of the park.
Playa Jaco
Playa Jaco is perhaps one of Costa Rica's most well-known beaches and one of the closest beaches to the capital city of San José. It is a favourite day trip destination for tourists with condensed itineraries. It's a well-liked option among tourists of all stripes because of its expansive, lengthy stretch of sand, stunning rocky vantage points ideal for watching the sunset, and a wealth of beach services.
Although Jaco doesn't have as much charm as some of the other beach towns on this list, it does have all the amenities you could want, including a wide selection of dining establishments, lodging alternatives, surf schools, and several transportation options.